Stuff Your Loved Ones Stocking With A Gift They Will Enjoy For A Lifetime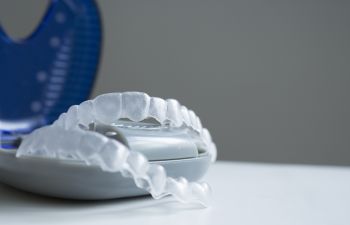 Looking for the perfect gift to give your loved one this holiday season? Sometimes it's hard finding the gift that will "wow" the person you're buying for. Here's a warning for you as you shop: Don't buy something for your loved one that ultimately benefits you. Here's an example, buying an iron for your spouse so your shirts will be nicely ironed for you would be a "gift-giving no-no."
At Three Creek Dentistry we have a gift idea for your spouse that they will love for a lifetime. The gift of an aligned smile is the perfect gift. Invisalign is a system of clear aligner trays that gradually aligns teeth. The entire process is virtually invisible to friends and family members, because the trays are clear and are discreetly placed on your teeth to do their job.
You may be thinking that only teenagers enter alignment treatments. This is not true. More and more adults are becoming dissatisfied with shifting teeth and misaligned smiles. Adults who have always put their kids' needs first are beginning to want the same brilliant smiles as their children who are now grown.
You can trust our experts in orthodontics at Three Creek Dentistry to help you deliver the perfect holiday gift for your loved one. Why not book an orthodontic appointment with us today. We can help you and your loved one understand if they are a candidate for orthodontics as well as guide you through your treatment process and financing options. We look forward to seeing you!
Posted on Behalf of Three Creek Dentistry